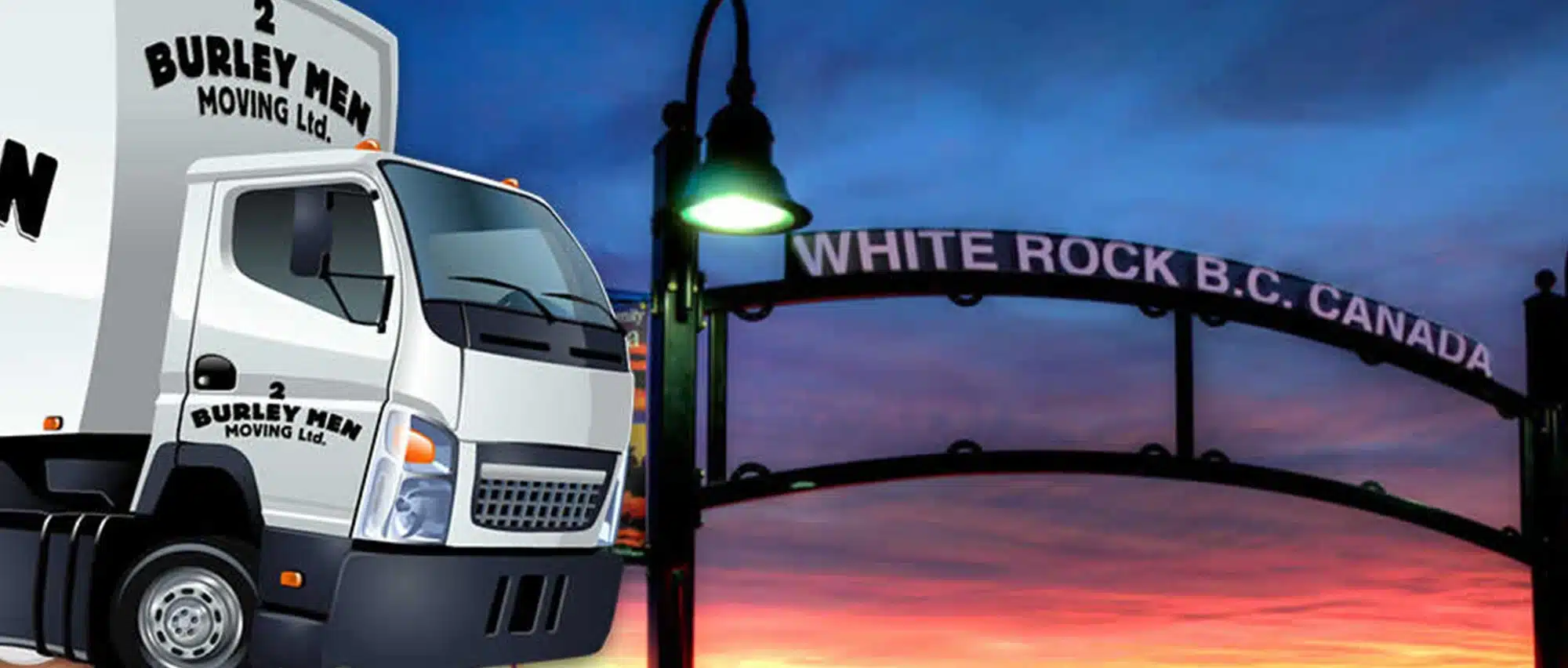 A Stress Free Moving Day with 2 Burley Men Moving White Rock
Are you planning a move to or within the beautiful seaside community of White Rock, British Columbia? Look no further than 2 Burley Men Moving, your premier choice for all your moving needs. With our years of experience and commitment to exceptional customer service, we take pride in making your move stress-free and efficient. As one of the top moving companies in White Rock, we offer a wide range of services to cater to your specific requirements.
Your Reliable White Rock Movers
Moving can be a daunting task, but with 2 Burley Men Moving by your side, it becomes a seamless and stress-free experience. As one of the leading moving companies in White Rock, we are committed to providing exceptional service and ensuring your move is a success. Trust our experienced team to handle every aspect of your move with care and efficiency, allowing you to focus on the excitement of starting a new chapter in White Rock.
---
---
Why Choose 2 Burley Men Moving?
Experience and Expertise

When it comes to moving, experience matters. With over a decade of experience in the industry, our team of dedicated professionals has perfected the art of efficient and reliable moving. We understand that every move is unique, and our expertise allows us to handle any challenge that may arise during the process. You can trust us to handle your belongings with care and precision, ensuring they arrive at your new home in pristine condition.

Comprehensive Services

At 2 Burley Men Moving, we offer a comprehensive range of services to meet all your moving needs. Whether you're moving locally within White Rock or embarking on a long-distance journey, our team is equipped to handle it all. From packing and unpacking to loading and unloading, we take care of every aspect of your move, allowing you to focus on settling into your new home. Our services also include storage solutions for any belongings that you may need to store during the transition.

Reliable and Efficient

We understand that time is of the essence when it comes to moving. Our team of professionals is committed to providing reliable and efficient service, ensuring that your move is completed on schedule. We arrive promptly at your location, equipped with all the necessary tools and equipment to handle your move with precision and efficiency. With 2 Burley Men Moving, you can rest assured that your move will be seamless and hassle-free.

Customer Satisfaction Guaranteed

At 2 Burley Men Moving, we prioritize customer satisfaction above all else. We strive to exceed your expectations at every step of the moving process. Our friendly and professional team is always ready to address any concerns or questions you may have, providing the support and guidance you need throughout your move. We believe in building long-term relationships with our customers, and our commitment to exceptional service is the foundation of our success.
The White Rock Experience
White Rock, British Columbia, is a picturesque seaside community renowned for its natural beauty and coastal charm. With its stunning beaches, breathtaking sunsets, and vibrant atmosphere, White Rock offers an idyllic setting for residents and visitors alike. Let's explore some of the highlights of this charming community:
Miles of Sandy Beaches

White Rock is blessed with miles of pristine sandy beaches, perfect for sunbathing, swimming, or leisurely walks along the promenade. The iconic White Rock itself, a massive glacial erratic, adds to the beauty of the coastline. Take a stroll along the beach, breathe in the fresh ocean air, and soak up the breathtaking views of Semiahmoo Bay.

Marine Drive: The Heart of White Rock

Marine Drive is the bustling heart of White Rock, lined with an array of shops, restaurants, and cafes. Explore the unique boutiques for one-of-a-kind finds, indulge in delicious local cuisine at waterfront eateries, or simply relax and enjoy the stunning ocean views. Marine Drive offers a vibrant and lively atmosphere that truly captures the spirit of White Rock.

Local Attractions

White Rock is home to several attractions that showcase the rich history and natural beauty of the area. Don't miss the White Rock Pier, a popular spot for fishing, strolling, and enjoying panoramic views of the ocean. Take a visit to the White Rock Museum & Archives to learn about the fascinating history of the community. If you're a nature enthusiast, be sure to explore the beautiful Peace Arch Park, located nearby, which straddles the Canada-US border.

Welcoming Neighborhoods

White Rock is comprised of several welcoming neighborhoods, each with its own unique charm. From the peaceful ambiance of Crescent Beach to the family-friendly communities of Elgin and Morgan Creek, there is a neighborhood in White Rock to suit every lifestyle. Whether you're looking for a vibrant urban setting or a tranquil suburban retreat, you'll find it in White Rock.

Services for New Residents

As a new resident of White Rock, you can count on a range of services to help you settle into your new home smoothly. From reliable utility providers to top-notch healthcare facilities such as the Peace Arch Hospital, everything you need is within reach. The community is also home to excellent schools, recreational facilities, and parks, ensuring a high quality of life for residents of all ages.
Get In Touch
Contact 2 Burley Men Moving today for a free quote and let us take the hassle out of your move. Experience the difference of working with a reliable and customer-focused moving company in White Rock.